Goals Meet Success
Hang on for a minute...we're trying to find some more stories you might like.
West Delaware junior Mitchel Mangold and senior Harrison Goebel have accomplished what only 26 other wrestlers have achieved in West Delaware Wrestling history: 100 wins.
From a young age, both Goebel and Mangold have set goals for themselves in order to succeed in wrestling.
"When I was younger, I remember watching older wrestlers get their 100th win," Mangold said. "I set it as my goal at a young age."
Goebel wrestles because it's fun to be around his friends while competing. "You may be out there by yourself, but you're scoring points for the team," Goebel said.
These two wrestlers are no strangers to relying on coaches and teammates to push them to achieve their goals.
"I've had a lot of people help me get to where I am today, including all of my coaches and my dad," Mangold said. "I wouldn't be where I am today without all of my great teammates pushing me every day in practice."
During the Bobcat Jerry Eckenrod Invitational on Jan. 6, Goebel became the 27th wrestler in West Delaware Wrestling history to achieve his 100th win.
"When I got my 100th career win, it felt amazing to reach something that most wrestlers don't accomplish," Goebel said. "It was nice to see the hard work pay off."
Two weeks later at Louisa-Muscatine, Mangold accomplished his childhood dream and became the 28th wrestler to earn his 100th win.
"After getting my 100th win, I felt accomplished that I had reached one of my goals," Mangold said. "I'm going to use this as motivation to keep pushing myself."
With two weeks left in the season, Goebel and Mangold hope to see their efforts pay off.
"They both have invested considerable amount of time and effort into making themselves better athletes and wrestlers," Jeff Voss, head wrestling coach, said. "When you invest in something, you will get rewarded."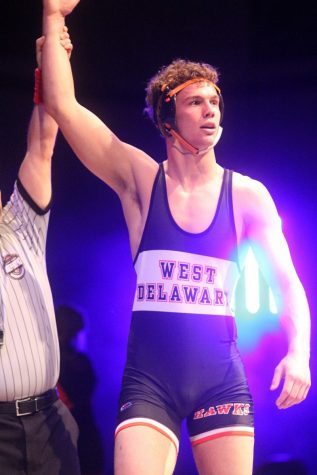 Contributed from Janette Voss
About the Writer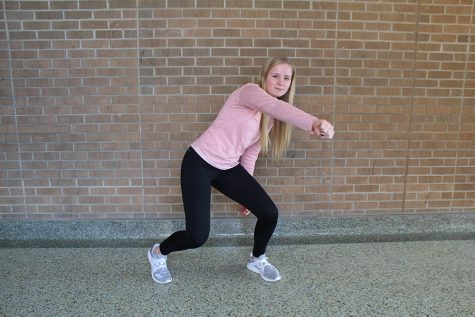 Kira Vaske, Photography Editor
I'm Kira Vaske and I am a senior. I'm involved in softball, volleyball, track, student council, NHS, FCA, and I am a wrestling administrative assistant....