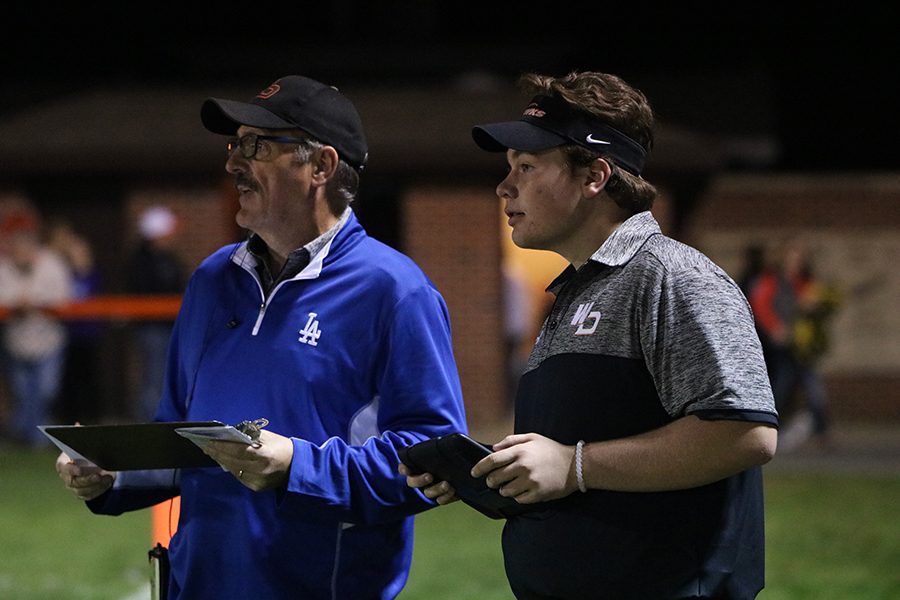 JoAnna Voss
 Awarded with the Iowa High School News Media Award, Bill Logan's dedication to the West Delaware athletics has finally been recognized. From sideline reports and coaches' interviews to supporting all the athletes, Logan enjoys being a part of the experience.
"I started with KMCH in 1995 on accident," said Logan. "I was at my son's baseball game when I got asked by the reporter if I could help him figure out everyone's names." Since then, Logan has continued to help KMCH with covering sports.
Logan said he always does it for the kids, never for himself. "I love watching the kids grow as athletes and as people. The connection I have with them means a lot to me. It's like I really mean something to them."
Logan is a major part of West Delaware athletics. He does sideline reports for football and is the news reporter and broadcaster for basketball, baseball, and softball. He sends the stats and interviews to KMCH and corresponds with the Cedar Rapids Gazette.  
"Bill will stay as late as needed on a Friday night, even on road trips," Coach Doug Winkowitsch said. "There are times when interviews don't get done till 1 a.m, but he still stays for us. We all really appreciate everything he does."
As recorded on KMCH radio, Jamie Vaske said, "You never hear him saying anything bad about a kid. He is always very positive."
Logan said he felt honored getting the award. "It's not like I do this full time so I was surprised."